SHE HAD THIS CAP ON HER WISH LIST AND GOT IT!
Our customer saw a distressed camo cap on another website that she just loved. She asked
us if we could find THAT cap. She wanted to create a personalized gift tor her team. WE FOUND THE CAP, designed it and embroidered the caps for her to give to her team.
She said the caps were fabulous!".
BON VOYAGE -ENJOY USING YOUR SECURE TRAVEL WALLET!
Experience Travel specializes in

assisting their clients in planning
their dream vacations based
most importantly on their
individualized travel needs and
preferences. So as a momento
they provided their clients with
abranded travel wallet to hold
all their important documents
EVERYONE WANTS THE NEW VACUUM INSULATED TUMBLERS!
The franchise of ddsmatch.com has a company store website from which the franchisees ordered these 30 ounce stainless steel vacuum insulated tumblers. These tumblers are copper lined, vacuum insulated deep draw liner will maintain optimal drinking temperatures, offers FDA compliant dual walled 18-8 Stainless Steel, sweatfree design and features a full color logo
"IMAGINE THE VALUE OF YOUR BUSINESS ON DISPLAY EVERYDAY!"
The Town Planner Community Calendar is mailed to homeowners in a specific area of town and showcases local businesses through Ad Blocks and Coupons. Our customer wanted to demonstrate how homeowners post the calendar on their refrigerator and see it literally everyday. So we developed a pop-up retractable banner that looks like a refrigerator and attached an actual calendar as a full-size display.
COMPLETE CUSTOM OPTEMETRIC KIT
Litte Eyes Pediatric Optometry offers an Ortho K kit to its kids clients. It contains contacts, contact solution and the rest of the items needed for their eyecare. A durable, colorful, waterproof kit was sourced and imprinted.
CONFERENCE MATERIALS UPLOADED TO A USB TO WIN!
The month of May in Indianapoilis is Indy 500 Race Month.So for an educational conference for customers,
JDR Solutions provided stainless-steel flash drives with all of the conference materials uploaded for each attendee.The JDR logo was engraved on the underside
EVERY CHILD EVERYWHERE DESERVES A LITTLE WISH
When kids with cancer go through chemo they can feel cold and scared. So the Little Wish Foundation, which provides little gifts for kids with cancer,offers soft fleece blankets for cozy warmth
CUSTOMER'S LAST MINUTE ORDER SCORED A HOLE IN ONE!

Ryan with EDGE IT got in touch with TLC Promotions because he had heard we could pull off last minute orders. He calledon Friday afternoon and requested a logical, classy yet inexpensive giveaway for a golf outing for which he had signed up. He wanted the order in hand by the followingTuesday afternoon!
Well we were able to provide!
SAN PAULO, BRASIL ORDERS FOR CHICAGO TRADESHOW
OFCDESK,LLC out of San Paulo, Brasil used TLC Promotions to coordinate coffee mugs, notebooks, pens and tumblers for their booth for a tradeshow in Chcago. Also,we expedited shipping to the convention site. They said, "People loved the mugs. Some visitors stopped by to say they still had the tumblers from previous years and of course they were looking for the new gift of this year."
HOW TO BE A SANTA CLAUS & NOT A GRINCH!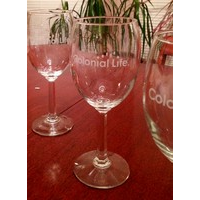 Ruth, former area director with
Colonial Life Insurance not only needed a great idea for a holiday gift for her customers but she needed the items gift boxed in a week! Because TLC has great and responsive suppliers we came through. What she said was "The logo wine goblets were a hit! It was a great gift idea and you really came through at crunch time for the holidays! You were so sweet to make up the individual gift boxes, too!
Thanks for taking such great care of me Sherry. My bags and pens arrived today, just in time to hand out at my 10 minute presentation on the 28th. :-) You R O C K !!!
Bridget Gurtowsky
Gurtowsky Graphics
We got the banner, love it! Thanks so much for your help, greatly appreciated!
We are back from the show, and everything went well! All items were a big hit (especially the tumblers!). I have attached a picture of Caleigh and I in the booth so you can see how it turned out.
TLC truly lives up to their name. Sherry handled everything beautifully from start to finish. No headaches, no hassles! We have a unique item we're proud to give to prospects and clients. Thank you!
Mary Jo Gremling
eLucida Imaging
Thanks for all that you do.
Dan Studley
studley moving & storage
On her order of customized magnets..."Your firendliness and knowledge are what we liked most about how our order was handled...the continued creativity...everything that goes out of the office...we would be willing to recommend your services..."
Dr. Carol McKown & Janet Sweeney
Dr. Carol McKown, Pediatric Dentistry
Our post-it notes were handled with speed and efficiency..we would be willing to recommend your services to parks and recreation agencies in Marion county and the five doughnut counties.
Clark Ketchum & Steve Waltz
Indiana Park & Recreation Association
Sherry took the time to find the perfect card for us. I don't think the process could be any easier. Other items on which we might imprint our company name are pends, mugs, hats and jackets.
Dave Eaton
Bulldog Painters
Sherry, I love your website! I just ordered Thanksgiving cards from it and it couldn't have been easier. There was a great selection and good pricing. Just thought I'd drop you a note to say thanks!
CJ Simmons
CMIT Solutions
Thank you for providing professional, efficient service. You responded to my onlne purchases quickly, efficiently, and professionally. I appreciate it. Your new website is wonderful and easy to navigate. I have received my holiday cards and they are of high quality. They arrived within a week and were competitively priced. I look forward to doing business with you again and sending you qualified referrals.
Bridget Gurtowsky
Arbonne International